On Saturday, the NASCAR Truck race at Knoxville wrapped up. Todd Gilliland won the race, but the real story was what happened behind him. Sometime during the race, there was a massive accident for Jessica Friesen.
Unfortunately, broadcast partner Fox Sports completely missed it.
ADVERTISEMENT
Article continues below this ad
Suffice to say, many fans were furious, and NASCAR spotter Freddie Kraft was one of them. Earlier, some images of Friesen's crash began doing the rounds on social media. Kraft sarcastically quipped, "Damn I must have been drunk last night. I don't remember seeing anyone flipping on the TVs at the bar."
DIVE DEEPER
Instead, fans only got to know about it due to amateur footage from a spectator's cell phone. Additionally, the cameras almost missed out on a close call for Brett Moffitt. Apparently, he nearly hit the same place that Friesen had her accident and could have flipped as well.
How did the NASCAR Truck race pan out?
As mentioned before, Todd Gilliland snatched the victory at Knoxville. However, it is noteworthy that this was his first Truck Series start in 2022. So, to win the race at the very first start of the season is a truly impressive feat.
ADVERTISEMENT
Article continues below this ad
Meanwhile, John Hunter Nemechek finished 2nd, ahead of Zane Smith, Ty Majeski and Stewart Friesen. The Friesen household had something to be happy about with Stewart's 5th place.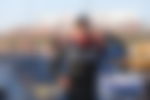 Meanwhile, Jessica's accident took place somewhere between lap 55 and lap 57. Fox Sports' cameras only picked up her stricken car parked on the inside berm. According to the fan video, she accidentally drove into a berm upon entering the corner. As a result, her truck went sideways, and she rolled a full 360 degrees.
ADVERTISEMENT
Article continues below this ad
WATCH THIS STORY: NASCAR Team Owner Kyle Busch's T-Shirt Joke Comes Back to Haunt Him During the Wreck-Fest Truck Race at Daytona
Fortunately, the truck landed on its wheels, and after a quick checkup, Friesen was sent back out. Unfortunately, her race did not last long, as she was forced to retire after a few laps, due to a suspected brake issue.
Source: | This article originally belongs to Essentially Sports