Dwyane Wade is regarded as one of the best players in the history of the NBA. Mostly known for his time with the Miami Heat, the Flash turned himself into a legend. His quick and athletic game made him nearly unstoppable. Wade was also responsible for Shaq's fourth ring after he put up one of the greatest finals performances. Likewise, the NBA legend has a huge net worth. And Wade doesn't shy away from spending. One of his craziest purchases has the Heat legend keep security all day long.
After a successful career in the NBA, Wade is like any other basketball player. His fruits of hard work fetched him an insane amount of net worth and D-Wade loves to put it to use. The NBA legend has one of the best watch and car collections in the NBA. However, one of his purchases would shock even the richest of the players.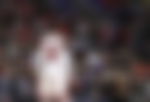 Working with his shoe company, Wade came out his an exclusive one-of-one sneaker for himself. But the value and details of this shoe forced the former Finals MVP to hire armed security.
ADVERTISEMENT
Article continues below this ad
WATCH THIS STORY – 5 best Memes on Chris Paul Choking Yet Again in the NBA Playoffs
Dwyane Wade spends it all for a sneaker?
Apart from an insane car collection that could see the rarest wheels in the world, Wade has made some insane buys. Having a mansion and several other properties isn't surprising for an NBA player. However, Wade took one step further. The Miami Heat legend went out of his way in designing a custom shoe with Li-Nang. The Li-Ning Way of Wade 4 is by far the most expensive sneaker in NBA history. And Wade was adventurous enough to take it out for a spin.
ADVERTISEMENT
Article continues below this ad
Wade is never afraid to express himself when it comes to his looks. He is one of the spearheads of the NBA fashion world and is always dressed to the best. However, his outfit on this particular night could have fetched a nice house for some people, and this would only count in his shoes. His exclusive sneaker peace cost the NBA legend a whopping $4 million, and Wade was brave to explore.
As the most favorite show in his collection, the NBA legend took them for a test drive at an event. But with such a high price Wade needed to protect them at all costs. So he hired an armed security team. But what makes the show so expensive? Wade's exclusive sneaker is covered in diamonds, sapphires, and even 18 karat gold. It is a true piece of art and Wade is the only one who holds this piece. Wade has gifted himself some insane presents, but this surely tops them all.
ADVERTISEMENT
Article continues below this ad
DIVE DEEPER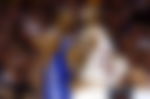 With a net worth of almost $180 million, do you think Dwyane Wade will add to his series of luxuries? Let us know your views in the comments below.
Source: | This article originally belongs to Essentially Sports