It is all coming crashing down for the Brooklyn Nets. After becoming the only team to be swept in the 2022 playoffs, it seems their stars have some serious thinking to do. It all started with Kyrie Irving and his trade rumors. The Lakers and many other teams are growing eyeing KAI's situation with the Nets and there is a chance he takes his leave. But the Nets were still confident having Kevin Durant on their side. However, it may all come to an end with the recent reports which took NBA fans by shock.
The Brooklyn Nets made one of the most overpowered offensive teams in the history of the game. With two former MVPs and one of the most skilled players under their control, things were looking good for ahead. However, after a season full of drama and embarrassment, things are taking a turn for the worse. Not only do they have the worry to monitor Kyrie, but the Slim Reaper is also weighing down his options.
ADVERTISEMENT
Article continues below this ad
According to the recent reports. KD is considering options for his future with the Brooklyn Nets.
WATCH THIS STORY – 5 best Memes on Chris Paul Choking Yet Again in the NBA Playoffs
Is Kevin Durant also eyeing his way out of Brooklyn?
Despite dealing with injuries in the past, KD returned like a force. One of the most lethal offensive weapons in NBA history, the Nets were in a good place having his services. However, last season, the first hit came to them when James Harden left reportedly due to his issues with Kyrie. But it didn't come without any benefits. They got Ben Simmons in return, but the All-Star guard didn't play even a single game last season.
Now, only a few months after their playoff exit, Brooklyn may never see their potential 'Big 3' in action. Along with Kyrie, even Durant is thinking about his future with the organization. This could pave way for a Kyrie trade even more, and NBA fans trashed both the stars.
ADVERTISEMENT
Article continues below this ad
This truly comes as a shock as Brooklyn has a lot to explore with this coming season. Notably, the dynamic of KD and KAI with Ben Simmons. The former Sixers point guard got the back surgery and is excited to suit up next season. All this time, the team was lacking a defensive motor to go with their offensive firepower. However, the entry of Ben Simmons changes things completely. Kyrie and Durant are more than capable of breaking down the best defenses in the NBA. And the addition of Simmons makes them a solid force on the defensive end as well. But despite so much to explore, the offensive juggernauts seem to want no part of it.
ADVERTISEMENT
Article continues below this ad
DIVE DEEPER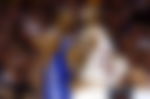 With Durant also weighing down his options, there won't be much that teams won't give up to get him. The Slim Reaper can change the entire look of an organization. And with such news hitting the fan, all NBA organizations are going to be making plans to acquire KD. Do you think the Nets have seen the last of Kevin Durant and Kyrie Irving? Let us know your views in the comments below.
Source: | This article originally belongs to Essentially Sports