Shaquille O'Neal revealed that Jeff Bezos' crucial business strategy is the main mantra behind his brand Big Chicken's success. The Big Diesel shared the ingenious plan that helped launch his business to the forefront of America's appetite. Big Chicken is one of many businesses that Shaquille O'Neal has created successfully.
Shaq is arguably the most dominant player in the history of the NBA. But his success spans far beyond the bounds of a basketball court. After retiring from basketball, Shaq has legitimately established himself as a business mogul.
ADVERTISEMENT
Article continues below this ad
In the last two decades, Shaquille O'Neal has become a household name in the country, not just because of his prowess under the hoop, but also for a variety of other stints.
In fact, Shaq is almost everywhere, from cameos in movies and TV shows to broadcasting, and reality television. Shaq has done it all.
But more importantly, he has channeled his fame to create successful businesses. His wise business decisions and potent investments bear testimony to Shaq's acute business acumen.
Shaquille O'Neal repeats Jeff Bezos' strategy
Shaquille O'Neal appeared on BNN Bloomberg recently to promote his Big Chicken brand. Along with Josh Halpern, CEO of Big Chicken, Shaq delved deep into his lucrative business.
The four-time NBA champion repeatedly emphasized the role of his employees in making the brand a success. Shaq believes in teamwork. Therefore, he always intended to create a strong team to operate his businesses.
In fact, Shaq used the example of NBA teams to drive home his example. The role of 'others' or role players is crucial for a team to win championships. The same equation applies to businesses as well.
Later on, Shaq said that he applies Jeff Bezos' formula to succeed in a business. Like Bezos, he invests in things that can change people's lives. This policy almost always reaps rewards.
Shaq's business model
ADVERTISEMENT
Article continues below this ad
Shaq believes that it is crucial to create bonds in a business rather than just run after profits. "Relationships are always very important to me", said the Los Angeles Lakers legend.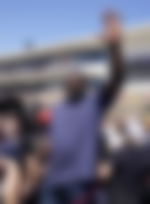 "It's all about relationships. It's all about meeting people", he added. This emphasis on networking and relationships has earned Shaq a lot of success in different fields.
ADVERTISEMENT
Article continues below this ad
Watch this Story: How Old Is Warriors Superstar Stephen Currys Son Canon?
What do you think of Shaq's business strategy? Comment below.
Source: | This article originally belongs to Essentially Sports