Spanish tennis legend Rafael Nadal recently won his 14th French Open title recently amidst much fanfare. Although he received praises from all around the world, he also faced a lot of criticism and hate.
In case you are looking for context, Nadal suffered an injury that jeopardized his championship chances. He resorted to a medical method that caused controversy.
ADVERTISEMENT
Article continues below this ad
While many athletes from all around the world voiced their opinion and bashed Nadal, a former Boston Celtics star came to Rafa's support. Evan Fournier of the New York Knicks took to Twitter to support Rafa and talk about his experiences.
Why is Rafael Nadal in the news?
Apart from his phenomenal Roland Garros victory, Rafael Nadal is making the news for all the wrong reasons. A pain in his left foot has caused problems for the Spanish legend for a long time. This forced him to resort to infiltrations.
Although this is a common medical treatment for athletes, some sports, like cycling, do not allow their participants to use infiltrations.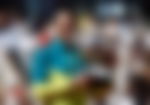 This caused major controversy. Moreover, French cyclist, Guillaume Martin, raised some questions regarding Rafa's use of the aforementioned medication. He said, "If a cyclist does the same thing, it's already forbidden."Brushing all the controversies aside, Rafa won his 14th French title this year to add to his glorious tennis career.
Former Boston Celtics star jumps to the rescue of Rafa
Although Evan Fournier might not be one of the best shooters in the league, he definitely knows how to take a shot on Twitter. The Knicks star recently tweeted to support Rafael Nadal.
Par exemple il y a 5 ans j'avais une grosse douleur a l'orteil et j'ai du me faire anesthésié le pied pour pouvoir jouer. Aucun produit dedans, tout est reglo. Au contraire c'était meme une galère de jouer avec un pied endormi. Je trouve que ce com fait vrmt rageux. https://t.co/jmemBr7f4s

— Evan Fournier (@EvanFourmizz) June 7, 2022
ADVERTISEMENT
Article continues below this ad
His tweet read, "For example, 5 years ago I had a big pain in my toe and I had to have my foot anesthetized to be able to play. On the contrary, it was even a hassle to play with a sleeping foot."
Fournier added, "It's not doping, it's medical. As if doing infiltrations necessarily means that we add products to boost performance."
ADVERTISEMENT
Article continues below this ad
WATCH THIS STORY: Ray Allen, G-Eazy, Gucci Mane and Other Stars Who Witnessed Stephen Curry Lead The Warriors To Victory vs Celtics In The NBA Finals 2022
Do you agree with Evan Fournier? Let us know in the comments down below.
Source: | This article originally belongs to Essentially Sports