Being the sons of the greatest swimmer ever, Boomer, Beckett, and Maverick will have a lot to prove when they grow up. Though Michael Phelps isn't one of those dads who would want to plan and control every aspect of his children's life. He has mentioned it repeatedly that he is happy with whatever personal dream they would want to accomplish when they come of age. However, being a dad, he does wish them to excel at a particular sport that he likes and it's not swimming.
ADVERTISEMENT
Article continues below this ad
The 23-time Olympic champion Phelps revealed in an interview that he wouldn't want his children to follow in his footsteps. Furthermore, the idea of seeing his children competing at the Olympics just scares him and if it were him, he would keep them far away from the Olympics.
ADVERTISEMENT
Article continues below this ad
What does Michael Phelps wish his sons to pursue?
Well, swimming is not what Michael would want his children to excel at. The champion revealed, "If I was a greedy dad and I wanted to pick a sport for my son, either one of them, I would say I would like to see them on the leader board at the Masters or a Sunday of major because [I'm], like, a die-hard golfer so for me that would just be unbelievable."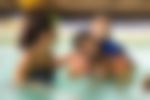 Michael himself is an ardent golf fan and post-retirement it's one of his go-to hobbies. However, perhaps that's not the only thing that drives his wish for his sons. He has been part of the Olympics for one and a half-decade. Therefore, what he wishes for his children would have come to him after much thought indeed.
ADVERTISEMENT
Article continues below this ad
No pressure on the kids
Besides their personal dreams for their sons, Michael and Nicole are completely open to the idea of them following their own hearts. On parenting and deciding about their children's future, Michael said, "If he [Boomer] chooses to swim that's his choice: I will never, ever, ever pressure either one of my kids to do something they don't want to do… All I want to see is two kids very happy, and if we can have that, that's all that matters."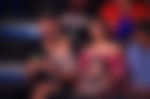 Perhaps only time would tell what's in the store for Boomer, Beckett, and Maverick. Will they carry forward the incredible legacy of their father, or will they carve out their own paths?
ADVERTISEMENT
Article continues below this ad
WATCH THIS STORY- 5 Quotes From Michael Phelps That Can Change Your Life
Source: | This article originally belongs to Essentially Sports