The Wimbledon Championships 2022 is into its second week. Over the last week, fans have been fortunate to witness some eye-catching tennis action. In one of the thrilling matches of the tournament, Nick Kyrgios caused a massive upset as he knocked out the fourth seed, Stefanos Tsitsipas.
It was an ill-tempered match, with constant momentum swings. Additionally, the crowd was vocal and made their emotions felt at every point won and lost. During the match, an incident occurred where Tsitsipas frustratingly smashed the ball into the crowd. However, he was fortunate that his actions didn't cause any damage. As a result, he escaped sanctions from the chair umpire. After the match, Kyrgios' father slammed Wimbledon officials for having double standards.
Nick Kyrgios' father on Stefanos Tsitsipas escaping punishment
The Australian star's father, Giorgos Kyrgios wasn't happy with the selective treatment of Wimbledon officials. Subsequently, he made his displeasures felt, saying, "My son would have been defaulted. You've got to draw the line for everybody. I hate to see it for anyone. I feel sorry for all of them – the pressure is so much."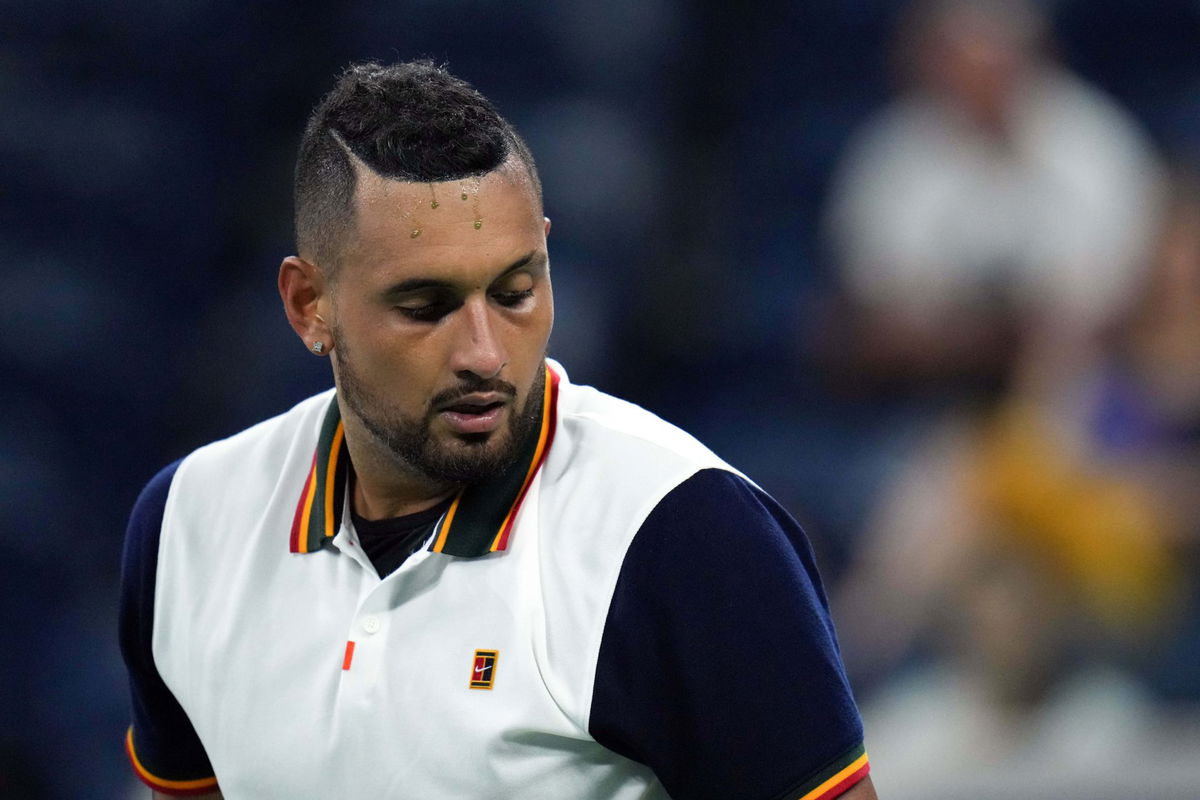 READ MORE: Nick Kyrgios Gets Slapped With a $10,000 Fine Over His Controversial Spitting Incident at Wimbledon Championships 2022
In a match lasting three hours and 17 minutes, Kyrgios got the better of Tsitsipas. The 27-year-old eventually prevailed 6-7 (2), 6-4, 6-3, 7-6 (7). The Australian star was strong on his serves and gave very few chances to Tsitsipas in his service games. It proved to be a deciding factor in the match as Kyrgios advanced into the fourth round of the Wimbledon Championships 2022.
Tsitsipas slams Kyrgios' antics
The fourth seed wasn't happy with his opponent's behavior during the match. After the match, the two had a cold handshake. Talking about Kyrgios, Tsitsipas said, "It's constant bullying, that's what he does. He bullies the opponents. He was probably a bully at school himself. I don't like bullies. I don't like people that put other people down."
WATCH THIS STORY: Roger Federer, Rafael Nadal, Serena Williams and Others In The Greatest Comebacks in Tennis
Kyrgios will next play against Brandon Nakashima of the United States on the centre court today.
The post 'My Son Would Have Been Defaulted' – Nick Kyrgios' Father Slams Wimbledon for Selective Treatment appeared first on EssentiallySports.
Source: | This article originally belongs to Essentially Sports